Send data from activity to fragment on android II
When it was instanceted of fragment, we can't to pass data with parameter, The only way is to call fragment's method from activity.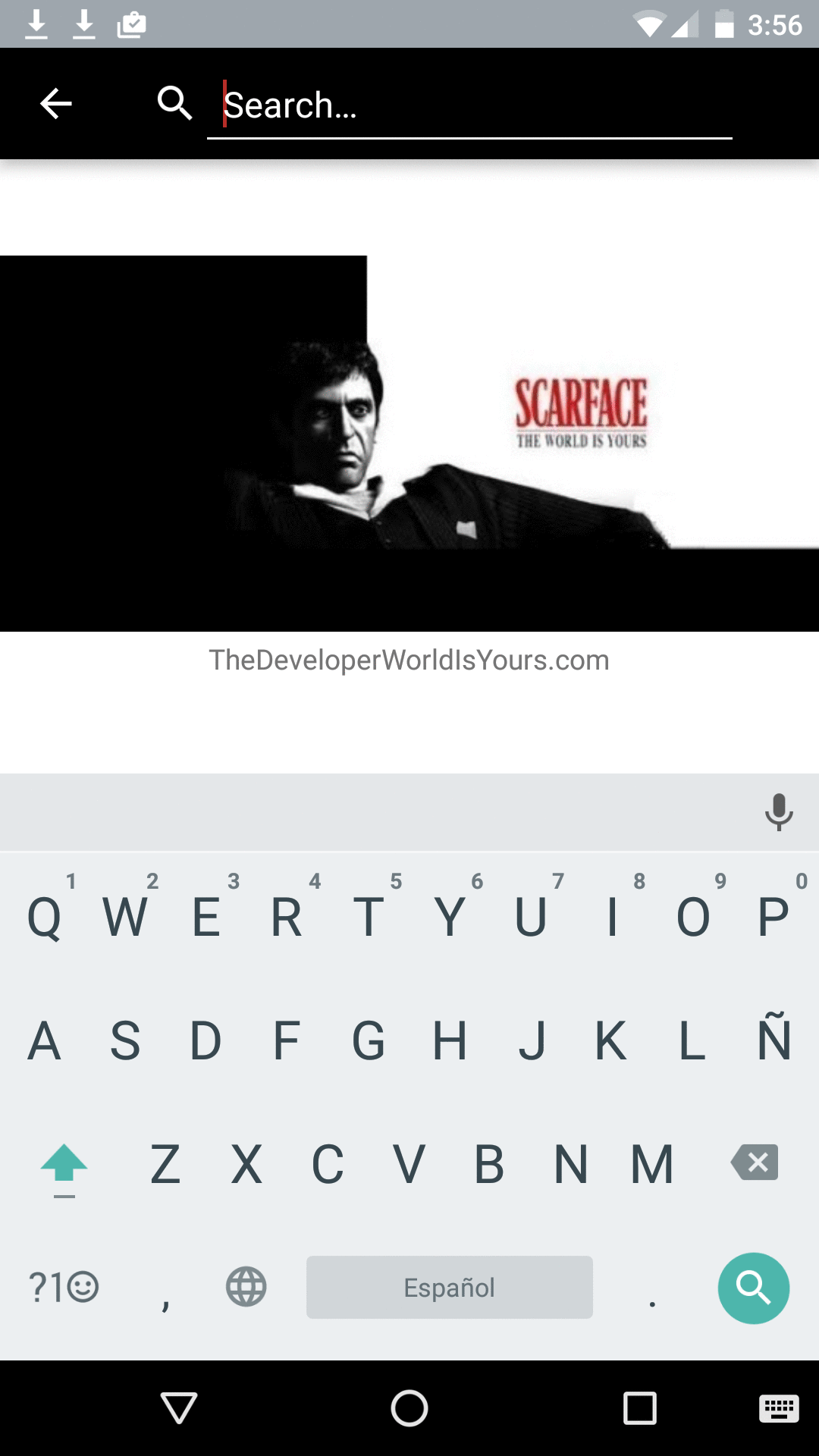 We need:
– Activity
– Fragment
We instance a fragment from activity. After that We will call a fragment's method from the activity.
You can check the activity.

package com.thedeveloperworldisyours.l;

import android.graphics.Color;
import android.support.v4.app.FragmentManager;
import android.support.v4.view.MenuItemCompat;
import android.support.v7.app.AppCompatActivity;
import android.os.Bundle;
import android.support.v7.widget.SearchView;
import android.util.Log;
import android.view.Menu;
import android.view.MenuItem;
import android.view.View;

public class MainActivity extends AppCompatActivity {

    private static final String TAG = "MainActivity";
    private MenuItem mSearchMenuItem;

    private SearchView mSearchView;
    private String mSearchString;
    private static final String SEARCH_KEY = "search";

    FirstFragment mFirstFragment;

    @Override
    protected void onCreate(Bundle savedInstanceState) {
        super.onCreate(savedInstanceState);
        setContentView(R.layout.activity_main);
        // if you saved something on outState you can recover them here
        if (savedInstanceState != null) {
            mSearchString = savedInstanceState.getString(SEARCH_KEY);
        }
        mFirstFragment = new FirstFragment().newInstance();
        replaceFragment();
    }

    // This is called before the activity is destroyed
    @Override
    protected void onSaveInstanceState(Bundle outState) {
        super.onSaveInstanceState(outState);
        mSearchString = mSearchView.getQuery().toString();
        outState.putString(SEARCH_KEY, mSearchString);
    }

    @Override
    public boolean onCreateOptionsMenu(Menu menu) {
        getMenuInflater().inflate(R.menu.menu_main, menu);

        mSearchMenuItem = menu.findItem(R.id.menu_main_action_search);

        mSearchView = (SearchView) MenuItemCompat.getActionView(mSearchMenuItem);

        customSearView();

        mSearchView.setOnQueryTextListener(new SearchView.OnQueryTextListener() {
            @Override
            public boolean onQueryTextSubmit(String query) {
                return true;
            }

            @Override
            public boolean onQueryTextChange(String newText) {
                mFirstFragment.refreshString(newText);
                return false;
            }
        });

        return super.onCreateOptionsMenu(menu);
    }

    public void customSearView() {
        SearchView.SearchAutoComplete searchAutoComplete = (SearchView.SearchAutoComplete) mSearchView.findViewById(android.support.v7.appcompat.R.id.search_src_text);
        searchAutoComplete.setHintTextColor(Color.WHITE);
        searchAutoComplete.setTextColor(Color.WHITE);

        View searchPlate = mSearchView.findViewById(android.support.v7.appcompat.R.id.search_plate);
        searchPlate.setBackgroundResource(R.drawable.background_search);

        mSearchView.setIconifiedByDefault(false);
    }


    public void replaceFragment() {

        try {

            FragmentManager fragmentManager = getSupportFragmentManager();
            fragmentManager.beginTransaction().replace(R.id.content_main, mFirstFragment, "tag").commit();

        } catch (Exception e) {
            Log.d(TAG, e.toString());
        }

    }


}